KEFALOGRAVIERA
PAPATHANASIOU Kefalograviera is a traditional hard PDO cheese from Aetolia-Acarnania, which the Papathanasiou family has put great care into producing exclusively from pasteurised sheep and goat milk deriving from selected free-range flocks grazing in the verdant region of mountainous Trichonida. It is slightly more spicy than graviera, with a buttery flavour and sandy-beige colour. It matures in a natural environment for three months and acquires a wonderful rich aroma that becomes even stronger as the cheese stays at room temperature, before being consumed.
Description
Product Description
PAPATHANASIOU Kefalograviera in the kitchen
PAPATHANASIOU Kefalograviera is consumed as a table cheese, but also has a wide range of uses in the kitchen. It serves as a filling in many recipes that require a spicy cheese, while it enhances the flavour of traditional Greek cooked or roasted dishes. Its flavour and texture place it between graviera and kefalotyri, and thus it can be used in the same way, while maintaining its own personality and uniqueness.
Breakfast
PAPATHANASIOU Kefalograviera can be consumed plain for breakfast with warm bread, but it is also ideal for omelettes and fried eggs, mini cheese pies, savoury dough creations, bread sticks, baton sale and even croissant fillings. Its spicy flavour balances well with and also presents an interesting taste result with honey, jam or chutney.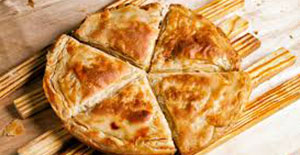 In pies and tarts
Like most cheeses, kefalograviera serves as a base for pies and tarts, either on its own or in combination with other cheeses. It is ideal for meat pies, potato pies and pizzas, since it melts beautifully and incorporates all the other ingredients in the pie. It goes perfectly with smoked and garlic cold meats in any creations with traditional filo pastry or puff pastry.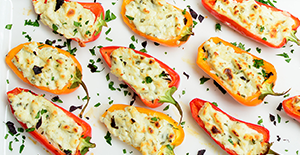 Appetisers
Kefalograviera features in a great number of meze for ouzo, tsipouro, beer and wine. Whether enjoyed plain with hot bread or Cretan rusks, as a saganaki, melted, in cheese or other pies, in cheese fritters or on a bruschetta, it is the best accompaniment at a party or celebration with friends.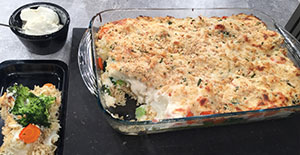 In cooking
Its strong flavour goes with roast meat in parchment, in a casserole, grated in sauces, on pasta, in bechamel sauce and in au gratin dishes. It also goes wonderfully with all hard cheeses, pasta and carbonara with 4 cheeses.
Kefalograviera and wine
PAPATHANASIOU Kefalograviera (PDO) matches up harmoniously with wine and cannot possibly be absent from such a cheese platter. Its salty flavour requires dry white wines with a high level of acidity, but it also goes harmoniously with white distillates (ouzo, tsipouro). It also pairs well with robust and more acidic red wines, such as Agiorgitiko, Cabernet or Xinomavro.
Reviews (0)
Συνταγές