PAPATHANASIOU GOAT CHEESE
PAPATHANASIOU goat cheese is an aromatic, easily digested and tasty white cheese in brine, which is made from goat milk produced exclusively by free-range goats or goats from selected farms in the region of mountainous Trichonida,  whose flora gives our cheese its unique aroma. Its semi-creamy and remarkably soft texture, which is rich in fattiness, along with its buttery nature and intensely fresh flavour that leaves behind a discreet, slightly sour aftertaste, is fully in line with the taste preferences of Greek consumers who are familiar with fresh white cheeses and goat milk.
A lot of patience and passion goes into making this cheese in the traditional way by our experienced cheese-makers working in fully hygienic conditions that protect the pure and traditional character of the cheese.
Description
Product Description
PAPATHANASIOU goat cheese in the kitchen
Goat cheese plays a leading role in contemporary cuisine worldwide and especially in France, where it goes by the name of chèvre and it is a favourite  among the public and among chefs, in a country known for its advanced level of cheesemaking.
In Greece too, with its rich grasslands and the traditional presence of the goat, it occupies an important place among white cheeses. PAPATHANASIOU
goat cheese, with its peppery flavour and rich aroma, can be enjoyed plain, and can also be used in a wide variety of foods and preparations. It is a cheese that goes perfectly with both sweet and savoury flavours.
Breakfast
PAPATHANASIOU goat cheese is a huge fan of hot bread, baguette and toast, and its taste also goes perfectly with sweet flavours like jam, honey and chutney, while it can also lift the taste of omelettes or fried eggs. Above all, it provides you with the nutrients and energy your body needs to cope with your tough and demanding daily routine.
In sandwiches
Like all white cheeses, PAPATHANASIOU goat cheese goes perfectly with tomatoes and green vegetables, and gives a different sense of taste and completeness when used in sandwiches or in a toast.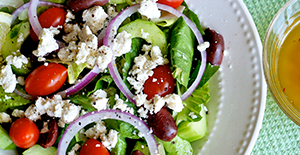 In salads
PAPATHANASIOU goat cheese can be added to all salads with green vegetables, tomato or herbs and olive oil, taking the place of ricotta, anthotyro and
other white cheeses, and offering a more authentic and traditional rich aftertaste, while at the same time also offering volume and white colour tones. It is also an interesting alternative on Cretan dakos.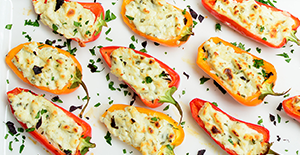 In appetisers
PAPATHANASIOU goat cheese serves as a base for a wide variety of appetisers and meze for parties or as an accompaniment to wine, beer or ouzo. Put it on bread and add ham, smoked salmon, capers or anything else you usually put on canapés. Put it on a baked potato with some butter or crumble it on fried or backed vegetables. It also makes a marvellous filling for pies with vegetables, Arabic pita bread or crepes, grilled peppers and, of course, any kind of cheese pie.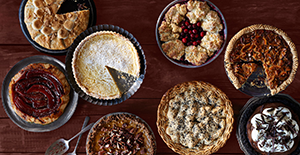 In pies and tarts
PAPATHANASIOU goat cheese honours the pie tradition of Roumeli and can be used on its own or in combination with other cheeses in a number of traditional pies, cheese pies and any creations with puff pastry. It is also ideal for a number of tart recipes, adding both flavour and volume to their fillings,
while it also adds a different touch to pizza.
In pasta
PAPATHANASIOU goat cheese can be used as filling in home-made fresh ravioli or tortellini, which you can make on your own in combination with aromatic
herbs of your liking. It also melts beautifully in au gratin dishes, offering a texture and flavour that is far beyond the ordinary.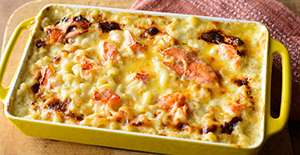 In food
PAPATHANASIOU goat cheese can accompany meat in red-sauce-based dishes with rich sauces, such as veal; it can blend with the tomato in a seafood saganaki; it can enrich a salad or be used in the filling of a kleftiko dish (lamb in grease-proof paper) on its own or with kefalotyri or kefalograviera.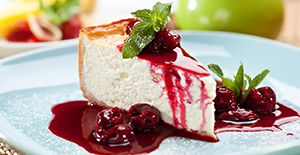 In sweets and desserts
PAPATHANASIOU goat cheese goes with sweet flavours that balance out its slightly sour aftertaste and create an interesting result. You can fry it with sesame seeds and honey; bake it with fruit like a pear or apple, or simply pour honey or grape molasses over it, or mix it with yoghurt in a cream or mousse.
Goat cheese and wine
Goat cheese naturally occupies a prominent position on any wine and cheese platter. It pairs best with white wines that are intensely fruity and have high acidity levels, like a Sauvignon Blanc or a Roditis.
Reviews (0)
Συνταγές