KEFALOTYRI
PAPATHANASIOU Kefalotyri is a hard, compact cheese that is light yellow in colour and has a hard rind. It is made from sheep's milk and/or goat's milk. Kefalotyri is one of the oldest and most popular hard cheeses in Greece. It ages in three months and becomes harder as the ageing period is prolonged.
PAPATHANASIOU Kefalotyri is defined by its asymmetric holes, natural rind and pleasant, slightly salty flavour with a rich aroma of pure milk from mountainous Trichonida, and it is pleasant and enjoyable to eat.
Description
Product Description
PAPATHANASIOU kefalotyri in the kitchen
PAPATHANASIOU kefalotyri can be eaten as a table cheese, but also features in many dishes in Greek cuisine, complementing their flavour with its unique saltiness. It is a favourite among those looking for a strong and intense flavour. It is ideal for grating over pasta and also goes well with other traditional flavours, such as pies, backed dishes and appetizers.
In appetisers

PAPATHANASIOU Kefalotyri serves as a great appetiser, plain or with bread, to accompany ouzo and tsipouro, and also serves as a basis for the creation of many salty meze snacks, such as mini cheese pies, cheese fritters or seafood saganaki in red sauce.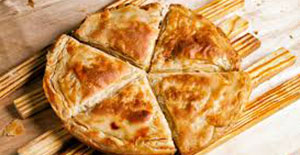 In pies and tarts

PAPATHANASIOU kefalotyri can – on its own or in combination with other cheeses – feature in a countless number of traditional Greek pies, such as spinach pies, cheese pies and vegetable tarts, as well as in any puff pastry creations, while it is also great for cheese bread and fried pies, whether it goes inside the dough or is grated on top.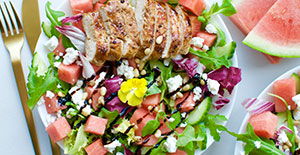 In salads

With its salty and spicy flavour, PAPATHANASIOU Kefalotyri can, whether cut in cubes or grated, enhance, any salad with vegetables, legumes, potatoes and beetroot, and forms an ideal combination with croutons when added to the salad.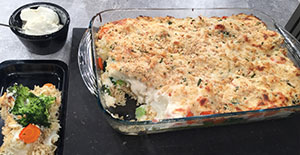 In cooking

Grated kefalotyri can accompany a number of dishes with red sauce, fried vegetables and fried potatoes, and goes in bechamel sauce, meat roulades, soufflés, baked eggplants, as well as in stuffed eggplants (papoutsakia), lamb in parchment, roast lamb or chicken, and in soups. Kefalotyri cheese is ideal for pasta, whether grated, melted or au gratin, and is great in bechamel sauce, and over meat stew with orzo pasta (giouvetsi), cannelloni, penne or rigatoni.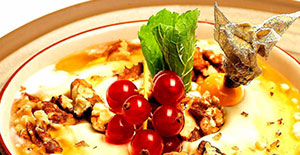 Dessert

PAPATHANASIOU Kefalotyri also makes an enjoyable dessert, whether fried in a saganaki with honey, or plain with a sweet sauce and nuts.
Kefalotyri and wine

Its salty taste balances with semi-dry aromatic white wines, such as a Sauvignon Blanc or a buttery Chardonnay when it is in bechamel sauce. When grated into red sauce, it needs a fresh Agiorgitiko wine, and when accompanied by sweet flavours it goes best with Malagousia or Moschofilero.
Reviews (0)
Συνταγές